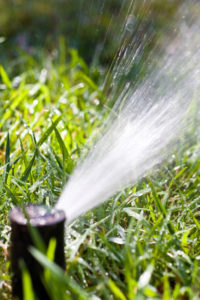 H&N Landscaping offers irrigation systems that use the most advanced technology in irrigation today. Too many irrigation companies use lower grade irrigation materials, which are more prone to failure long term. We use only commercial grade irrigation materials to help reduce future repair costs. The quality of our irrigation systems cannot be matched by any other. Barron (Bear) Gibbs is the manager of our irrigation department and has over 35 years of experience in designing and servicing irrigation systems in the Ark-La-Tex area.
Key Benefits of an Irrigation System by H&N Landscaping:
100% head to head coverage.
Trenchless installations using vibratory plows to minimize lawn damage.
Use of the highest quality irrigation materials available minimizing future repairs.
Warranties on all materials and labor on new irrigation systems.
Complete watering guide for each installation.
Servicing of all irrigation systems installed.
Save money on water bill by installing an ET irrigation controller
ET (Evapotranspiration) controllers are the wave of the future in irrigation controller technology. Studies show that most landscapes are significantly over watered causing wasted water use, excessive runoff, and plant injury. ET controls combine horticultural science with current weather information to customize a watering schedule specific to each landscape. Data is entered into the ET controller, which is wired to a weather station, such as plant species, soil type, slope of landscape, and sun or shade location and the controller does the rest. Each ET controller is fitted with a rain sensor that monitors rainfall, and shuts down the controller during rainy periods.
Benefits of an ET Controller:
Saved money on water bills.
Reduce waste of water and runoff.
Better overall plant health.
Reduced hassle of controller programming.
An irrigation program customized to each property.
No more running sprinklers during the rain.